Bio: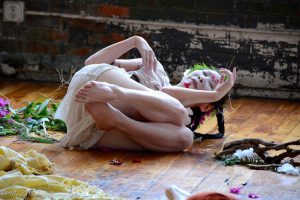 Kaoru Okumura is a Japanese Butoh performer based in Seattle, US. A fan of Butoh since the 1970s, Kaoru studied Butoh in 1993 at Asbestos-Kan in Tokyo with Akiko Motofuji, the wife of one Butoh's originators, Tatsumi Hijikata. This is where Kaoru first performed. She started Butoh activities in Seattle in 2008. Since then, she has enjoyed performing with Danse Perdue, KOGUT Butoh, and others, where she experiences how a body bridges the soul and the world. Recently she is focusing on solo work, periodically premiering new pieces at various venues. Kaoru had more than 20 performances in 2016, including Seattle International Dance Festival, and 9E2 Seattle in collaboration with Google Deep Dream, which was also supported by Google AMI (Artists & Machine Intelligence).
Her unique background balances computer technology and the arts. She has a Master of Science degree in mathematical logics and a career as researcher, developer, and program manager in computer companies with a specialty in natural languages analysis.  She also enjoys contributing to the Butoh community as a photographer, and video artist.
---
Testimonial:
"Sumptuous. The images are the Japanese world as Misoguchi , or Kurosawa…when they enter in Hosukai , Hiroshige ……
Une respiration au rythme des silences.
Le mot devient avec la danse une clé du Divin
Breathing to the rhythm of silence.
The word becomes with dance a key to the Divine."
— Alain Kuropatwa
"Kaoru moves with crane's grace and silk tenderness, musing with music."
— Esse
"It appears that one does not have to live in NYC to see a most amazing avant- garde dance performance. Simply stunning… Between the elegant space and peace of the Chapel at Good Shepherd and the captivating movements of the dancers, we are STILL stunned by the event. Thank you Kaoru!"
— by Kathryn R.
"Words are poor examples of telling about the experience of having seen Yomi: Butoh Event on All Souls Day. Every single aspect of each performer was great and I wish I could view each performance individually with the others in my periphery. It was a wonderful gift to all those lucky enough to be in attendance. Thank you for a unique, wonderful, cleansing period of performance and expression and to your troupe who all seemed to be seasoned professionals working as individuals in a perfectly balanced cellular body."
— Will Alan, William Alan Photo
YOMI: Butoh for All Souls Day, November 2nd 2013
"On January 7 we witnessed a truly gorgeous Butoh performance by Kaoru Okumura at an amazing space, the Taoist Studies Institute in north Seattle. Okumura's improvisational dance was gentle, stirring, and somehow cleansing."
– – Ken Lawrence
http://epicswisdomandlies.blogspot.com/2012/01/taste-of-butoh.html
A Taste of Butoh – solo Butoh improvisation: Taoist Studies Institute Benefit Event, Jan 7th 2012.
"Watching the performance makes me feel as if I'm reading Japanese folktales. Scary, cozy, intimate, and nostalgic. Haven't felt like that for a long time even when I visited Japan. Thank you, Kaoru-san!"

 — Ellie Santos
A Dream of Hina – solo improvisation: Taoist Studies Institute Benefit Event, Mar 3th 2012.
"I remained speechless at min [10:06], she was not a human being, takes from you some inner memories, and gives to them some kind of power, must to be the illusion of sensitive and smaller things of nature, joined to the body expression."

 — Arsen, greetings from Colombia
YouTube video White Autumn – solo butoh: Taoist Studies Institute Benefit Event,
Sep 13th 2012.
(article in Japanese)
暗がりからゆっくりと、さまよい出て来る魂。
ゆらゆらと絡まり、ほどける、生まれたばかりの生命体。
胎児たち、または、海の中の生きもののようでした。
未明の世界をさまようタマシイ。
演者と音楽だけしかないぶん、くっきりしたストーリーがセリフや背景で説明される演劇よりも、舞踏というのは伝わるときにはとても直接的に伝わるものなのだなあ、と最近やっと腑に落ちるようになってきた。匂いとか音楽とかと同じように、直接伝わってくるカタマリ。
抽象的なものは分かりにくい、と思われがちだけど。
でもそういう共感は、言葉によるよりも、ずっと強くずっとたしかに、深く届く。
by Tomozo, http://livinginnw.blogspot.com/2018/02/blog-post_6.html
"KAGIROHI かぎろひ" 1/21/2018 Tatsumi Hijikata Memorial in Seattle
---
Press:
KCTS 9:  Dare to be Ugly: Dance That Goes Beyond the Beautiful
An obscure Japanese art form pushes back against everything we're taught to value
https://kcts9.org/programs/arts/dare-be-ugly-dance-goes-beyond-beautiful-butoh (April, 2017)
City Arts: Slow, Moving
"Butoh is a struggle so that [the] audience may feel some direct experience or existence, without saying or expressing that explicitly. We experience hidden histories on the stage. Ugly is beauty; beauty is ugly."
http://www.cityartsonline.com/articles/slow-moving (May, 2017)

City Arts: What Dreams May Come
King Street Station brimmed with innovation during art and technology festival 9e2, which encouraged collaboration between artists and scientists working in a wide variety of fields. Kaoru Okumura's Beyond the Metaphors combined traditional Butoh dance with Google DeepDream
http://www.cityartsonline.com/articles/what-dreams-may-come (November, 2016)