News: a photo of our performance was featured on
Photo Vogue Italia web site! Please visit Photo Vogue Italia page, and click "I Vogue It" button, or Like
button.
"SHIRANUI  (Mysterious lights on the sea of Minamata) – World of Woe, the Pure Land 苦界浄土 #2" 5/23/2015, at Georgetown, Seattle
Photographer: Jason Renek, Devilish Photo
Choreography and music arrange by: Kaoru Okumura
Performed by Kaoru Okumura & Aoi Lee
in event "ILLUMINATA Nocturna II: Multimedia Warehouse
Masquerade" organized by Esse Quam Videri
---
Kaoru Okumura is Seattle-based Butoh artist. She has enjoyed performing in Seattle Butoh scenes from 2008.
External Sites:
---
Coming Performance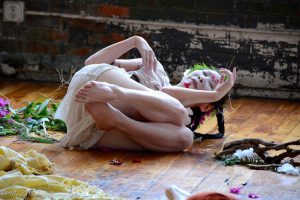 From Performances
Shadow Flower: A trace of an old prostitute, taste of ancient memory, the path she passed, a fixation on the fainting memory, and desperate plea for forgetting these memory, and a flower to be remembered and to be forgotten…
2012.07.07: http://youtu.be/HsBIr5e-gyY [19:29] 1080p HD available. as a part of Noh/Butoh Lecture and Performance at Taoist Studies Institute, Seattle WA
Past performance
please see performance page.